The HOMEGROWN Village at Maker Faire Bay Area 2011: Exhibitor list and schedule
Started in San Mateo, California in 2006, and also being held in Detroit and New York, Maker Faire is the premier event for grassroots American innovation. As the World's Largest DIY Festival, this two-day family friendly Faire has something for everyone – a showcase of invention, creativity and resourcefulness and a celebration of the Maker mindset.
Our food makes a journey to our tables, bringing with it a story. The HOMEGROWN Village at Maker Faire Bay Area is an opportunity to connect with that story, from the bees that pollinate to the farmers who harvest. Learn how tilling a few square feet of city soil creates a vibrant urban farm, how to grow veggies vertically, how to home-roast coffee beans, see noodle stretching demos, and so much more. The Makers, presentations, and hands-on workshops in the HOMEGROWN Village offer something for anyone with an appetite for DIY and good food.
Presentations:
Food Maker Pavilion: Maker Square Demo Tent
Convert Your Yard to Food • Keeping Urban Livestock • Real Bread in 10 Minutes • Backwards Beekeeping • The GrilledCheezGuy & His Brick's Trick! • Sweet Maria's Home Coffee Roasting • Jar Your Own: Basic Canning Techniques • Butchery Demonstration • Growing Gourmet Mushrooms on Recycled Coffee Grounds • Molecular Gastronomy
Workshops:
Food Maker Pavilion: Homegrown Village Workshops
Urban Goats • Hands On Sauerkraut! • Tiny Homes & Simple Shelters • Chinese Noodle Maker • Shake it! Make it! Butter! • Institute of Urban Homesteading • Making Seed Bombs: The Throwable Garden
Exhibitors:
HOMEGROWN.org
A gathering place for folks who celebrate the "culture" in agriculture and share skills like growing, cooking and food preservation.
Dale Family Farm
Fresh pressed Sunflower Oil: demonstrations of how seed and nut oil is made using a hand cranked and electric sunflower
East Bay Urban Agriculture Alliance
The East Bay Urban Agriculture Alliance is an alliance of individuals, organizations and for-profits working individually and collectively to grow food and sell affordable healthy agricultural products throughout urban East Bay communities.
Bee Keepers Educational Exhibit Beekeepers Guild of San Mateo
The Bee Keepers Guild of San Mateo provides an educational exhibit dedicated to teaching and encouraging beekeeping in the Bay Area. We make honey, candles, soap and cosmetics all derived from our bees.
Plant tissue culturing at home!
Microcloning! Learn how to do plant tissue cultures at home
Vertical Theory
Providing an alternative food source for urban dwellers, this vertical farming system utilizes hydroponic technologies, LED lighting, and felt. The current design requires minimal space, resources and maintenance to grow fresh food indoors.
Master Gardeners: Sustainable Lawn Alternatives & More
Replace your thirsty lawn with ground cover alternatives and build an orchard mason bee home.
Grow Spirulina Superfood! algaelab.org
We are teaching people how to grow their own algae at home, and selling live spirulina and kits to make it easy. You can grow enough Spirulina in one window to significantly supplement your diet every day!
The Secrets of Vegan Baking
Learn simple techniques for making delicious vegan, organic alternatives to America's favorite snack treats: Hostess Cupcakes, Twinkies, Cinnabons, and Fudge Brownies. Receive product information, recipes, and samples.
Efficient Tempeh Making
Tempeh (aka the poor man's meat) is produced by growing a benificial mold on partially cooked soybeans and grains. Grow Tempeh in your closet using simple technology: hand mill for cracking the beans, pressure cooker, floating pan as incubator
Clairesquares Cubed
Clairesquares handcrafts unique artisan sweet treats all based on traditional Irish recipes. Today we will be filling square shaped dark chocolates with rich and creamy caramel sauce and sea salt.
Worms, Worms, Worms!
Did you know that there are hundreds of millions of microscopic soil critters in a teaspoon of healthy soil? Learn how to grow a healthy garden by feeding these soil critters. Compost and create a garden that is life sustaining.
Pollution Prevention Outreach San Mateo County Environmental Health
San Mateo Countywide Pollution Prevention Program Automobile Oil and Filter Recycling information Household Hazardous Waste disposal information Stormwater and Watershed Pollution Prevention Less Toxic Pest Control information
Disconnect from the Water Grid Greywater Action
Want a bountiful garden irrigated from your greywater? Interested in a toilet that uses no water? Learn about simple options of harvesting rainwater, reusing greywater, and having waterless composting toilets for a sustainable water future.
Mushroom Growing For All Ages!
Grow mushrooms at home with pre-activated Mushroom MiniFarms. Kids can learn how mushrooms grow with our "Kids Kit" by growing mushrooms from start to finish on Newspaper!
Sweet Maria's Home Coffee Roasting Sweet Maria's Coffee
Sweet Maria's Coffee specializes in supplying home coffee roasters with coffee from around the world. Based out of Oakland, CA, Sweet Maria's is a web-based business but always look forward to meeting future and current home roasters in the Bay Area.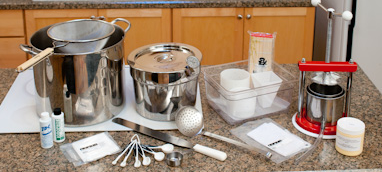 Home Cheesemaking The Beverage People
Home Cheesemaking. With 30 years of home winemaking and home brewing experience, this store in Santa Rosa (and on the Web) has also been using and selling cheesemaking supplies for over 5 years now. Cultures, molds, tools, and advice will be offered.
HybridMojo: Tools for Green Living
Wondrous advances in technology open new avenues to greener living! With the power of the internet, your mobile phone, and your peers, you can not only reduce your carbon footprint, but save money!
SVdP Artist In Residence – Trash to Treasure
The SVdP Artist in Residence program produces art from society's throwaways. The AIR program provides qualified artists with the use of a studio and unlimited access to waste materials in our Alameda County warehouse facility.
Solar Dyed Textiles
We at Ceallach Dyes dye all of our textiles using a solar process and low-immersion techniques in our own solar oven designed and built using recyled, repurposed and readily available materials to meet our needs.
THE WILLOW VILLAGE
The Willow Village is an interactive community project using sustainable, natural materials, and inspired by "Double Take," the Palo Alto Art Center's 2011 site-specific installation by environmental sculptor, Patrick Dougherty.
Tags: maker Faire 2011, San Francisco
One Response to "The HOMEGROWN Village at Maker Faire Bay Area 2011: Exhibitor list and schedule"
Leave a Reply