The Resilient Gardener – an interview and book giveaway
Courtesy of our friends at Chelsea Green Publishing, Carol Deppe explains what food resiliency means to her and what her strategy is for achieving it. As Carol says: "Buying local food supports local food resilience." Leave a comment below explaining what foods you buy locally for a chance to win one of two copies of her book: "The Resilient Gardener: Food Production and Self-Reliance in Uncertain Times". Enjoy!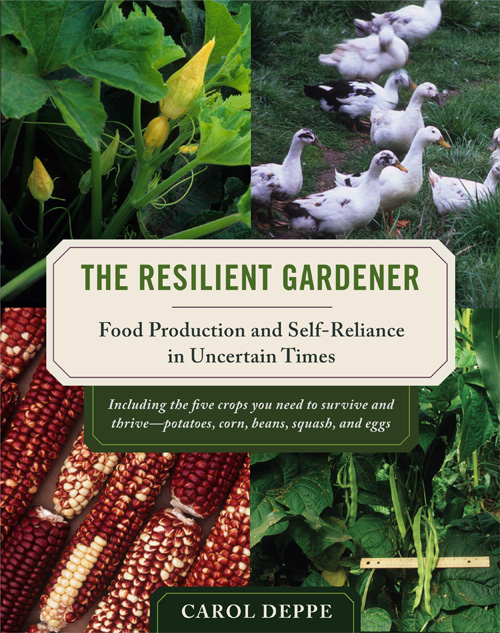 by Makenna Goodman
October 21, 2010
Having food resiliency is as much about learning how to store and use food properly as it is about growing it. The key is learning interdependence not independence.
In an age of erratic weather and instability, it's increasingly important to develop a greater self-reliance when it comes to food. And because of this, more than ever before, farmers are developing new gardening techniques that help achieve a greater resilience. Longtime gardener and scientist Carol Deppe, in her new book The Resilient Gardener: Food Production and Self-Reliance in Uncertain Times, offers a wealth of unique and expansive information for serious home gardeners and farmers who are seeking optimistic advice. Do you want to know more about the five crops you need to survive through the next thousand years? What about tips for drying summer squash, for your winter soups? Ever thought of keeping ducks on your land? Read on.
Makenna Goodman: Many gardeners (both beginners and more serious growers) come across obstacles they might not have planned for. In your new book, The Resilient Gardener: Food Production and Self-Reliance in Uncertain Times, you talk about the need for real gardening techniques for both good times and bad. What is the first step toward achieving this kind of resilience?
Carol Deppe: The basic issues are getting more control over our food, getting lots higher quality and more delicious food, and enhancing the resilience of our food supply. There are three ways to do that. The first is through local buying patterns and trade. A second is through knowing how to store or process food that is available locally, whether we grow it ourselves or not. The third is gardening. In The Resilient Gardener, I talk as much about storing and using food as growing it. I love gardening, but not everyone is in a position to garden every year of their lives.
However the person who has learned to make spectacular applesauce or cider or apple butter or pies can often trade some of the processed products for all the apples needed. Buying local food supports local food resilience. A couple hundred pounds of gourmet-quality potatoes tucked away in the garage — potatoes that you have learned to store optimally — represent serious food security, whether you grew them or bought them from a local farmer right after the harvest. Our buying and trading patterns and our skill at storing and using food as well as gardening are all part of our food resilience. All can serve as the starting point to begin taking greater control over our food.
So the first thing I would say is, garden if you can and if you enjoy it. Whether you garden right now or not, though, learn more about how to store and use the food that is grown locally. Lots of times, it is storing and using that is more of the missing link than gardening. Most gardeners know how to grow field corn. But most don't have the knowledge to turn corn into gourmet-quality fast-cooking polenta or savory corn gravy or even cornbread (without using wheat or other things they can't grow), let alone fine-textured cakes. Most gardeners can grow potatoes. But most don't know how to store their potatoes optimally. Most can grow blue potatoes. But most try to prepare their blue potatoes just like whites or reds. Few know how to turn a blue potato into spectacularly delicious food. In The Resilient Gardener, I spend as much time on how to store and use food as how to grow it.
We humans trade. We enjoy it, and it greases the social wheels. Sometimes we use intermediaries like money, sometimes not. Sometimes the trades are formal. Sometimes we call it gifts. I trade or sell or gift part of the best I have. Part of the best of others comes back to me. My friends, neighbors, and exchange networks are part of my resilience. I aim for greater self-reliance. I like to enjoy doing more for myself. And I love to garden, and to grow food. But I don't aim at "independence." Healthy humans are never independent. We are interdependent. What we want is to be self-reliant enough to hold up our end of honorable interdependence. Our skill at growing, storing, processing, using, or trading food can all be part of our contribution to honorable interdependence.
Neanderthal stone tools, interestingly, are all found within a few miles of where the rocks originated. And the tools didn't change very much over time. But Homo sapiens that lived at the same time had tools made from rocks that were clearly traded over long distances. And H. sapiens tools changed and developed rapidly. We traded our ideas along with all our stuff. Any Neanderthal tribe that met a sapiens tribe was one tribe against an entire species. I'm a Homo sapiens, and I follow Homo sapien traditions. I aim for appropriate self-reliance, not for independence. Independence is for Neanderthals.
MG: It's kind of a relief, actually, to think about gardening outside the realm of those perfect photos so prevalent in other gardening books. For people who have day jobs taking them away from their farms and gardens, resilient gardening might seem like a miracle. How would you compare resilient gardening to more traditional forms?
CD: Much of our garden writing is about the gardens of rich people who have employees to do the work. Even non-rich people with full-time jobs and no hired help are encouraged to take the gardens of rich people as the model. Beauty and showing off and ornamental plantings and huge high-maintenance inedible lawns have mattered more than food, for example. I'm not rich enough and haven't the time or inclination for that sort of gardening. I delight in all the knowledge about plants, ecology, and gardening we have today. But I take peasants as my basic model. I aim to be a modern peasant. I focus primarily upon growing food, especially upon staple crops and crops of special nutritional value. And I want lots of delicious food for the least possible work.
In addition, in the real world, things are always going wrong. These can be private or personal, such as an injury or family emergency that removes your labor from the garden for a while. Or they can be financial. Loss of a job can mean you really need to know how to get most of your food from the garden, not just fruits and vegetables. I also look at things over a thousand years. Over that kind of period, humans experience mega-crises of various kinds.
On average, the Pacific Northwest experiences two or three mega-earthquakes per thousand years, for example, which would destroy our roads and bridges and cut us off for years. Many kinds of natural and societal disasters occur over such time frames. Gardeners who know how to grow food can be reservoirs of knowledge, skills, and seeds for their communities. For this, though, the gardeners need to know how to grow staple crops, that is, calories and protein, not just fruits and vegetables. In good times, gardeners don't necessarily need to grow all their staple crops. But in good times, resilient gardeners learn to grow and use some of their staple crops so that they at least know how.
The resilient gardener knows we have our ups and downs, as individuals, families, societies, and as a species. The resilient garden is designed and managed so that when things go wrong, they have less impact. Most gardens are good-time gardens. They self-destruct rapidly if deprived of our labor. They depend upon constant imports of fertilizer and seeds. They need relatively stable weather. The resilient gardener has learned to operate with minimal external inputs, and in a world where climate is changing and weather is more erratic. The resilient gardener knows how to save seeds. The resilient garden is one that thrives and helps its people and their communities survive and thrive through everything that comes their way, from tomorrow through the next thousand years.
MG: In an era with unpredictable climate conditions — hurricanes, floods, droughts, etc — what, in your opinion, is the most widespread condition today's gardeners face? Why do you think this is?
CD: The unpredictability itself is the greatest problem. This summer, for example, is the coldest summer I have ever experienced in Oregon in 30 years. By mid-August there had been only one week all summer that had any days above 90°. Many days in June and July didn't even make it to 80°. Meanwhile, much of the East Coast had a record-breakingly hot summer.
For the last fifty years, the weather patterns have generally been unusually stable. Our modern gardening and agricultural practices actually depend upon that stability. Our farms and gardens have become good-time farms and gardens. They are likely to fail just when we need them most. We now need gardens and farms that survive and thrive in the face of greater unpredictability.
Wild erratic weather is typical of climate change, and is much more important to gardeners and farmers than a fraction of a degree's change in average global climate. However, humanity has made it through the transition from relative stability to instability in climate before, for example, in our adjustment to the erratic weather of the Little Ice Age. There are agricultural patterns and methods we have developed in the past when we needed them that we can relearn and expand upon today.
MG: Gardening for resilience, as you discuss, also means choosing your crop varieties for optimum self-reliance and hardiness. What's the most fantastic quality of each of the five crops you talk about in your book — potatoes, corn, beans, squash, and eggs?
CD: Potatoes are a great source of both carbohydrates and protein. They have protein levels comparable to the most protein-rich grains by the time you adjust for water. They yield more carbohydrate per square foot than anything we can grow in temperate climates. They yield more protein per square foot than anything we can grow except beans. They have good levels of vitamin C and significant amounts of calcium and other minerals. They are the easiest of all staple crops to grow. They yield much more carbohydrate and protein than anything else per unit labor. Small grains take fine seed beds, meaning tillers, tractors, or draft animals.
Anyone with a shovel can grow potatoes. And potatoes can be grown on rough land, land just converted from lawn or pasture or patch of weeds. Grains usually require special grinding equipment. Anyone who can build a fire can cook potatoes. Potatoes grow well in places too cold or wet for grains. Potatoes are far more impervious to nasty weather than grains. Cool or cold or wet stormy weather that can harm, delay, or even destroy, corn, squash, and other summer crops are likely to make the potatoes grow more happily than ever. So growing both potatoes and other crops provides a balance that provides resilience. Potatoes yield well on limited fertility, too. And in most areas of the country, they can be grown unirrigated, even where all other summer crops require irrigation.
People these days tend to remember the Irish Potato Famine, when late blight destroyed the entire Irish potato crop. But we should also remember that the potato was one of the major saviors of Europeans during the Little Ice Age, a crop that was central to their adjustment to the erratic weather associated with climate change, a crop that yielded year in year out, decade in decade out before there were any problems. European populations suffered famines and disease epidemics because their grain crops couldn't handle the colder, wetter, stormier, less predictable weather. After incorporating potatoes into their repertoire, European populations thrived and expanded, erratic weather, Little Ice Age, or no.
Potatoes are delicious. With all the varieties and flavors and cooking methods, we can eat potatoes every day and never get tired of them. Nate and I grow major amounts of potatoes. And with our sophisticated but low-tech storage methods, we have prime potatoes for eight or nine months of the year. Remembering the vulnerability of the potato to disease, though, unlike the Potato-Famine-era Irish, we grow many varieties, we have learned to save potato seed with near-certified-seed level of proficiency, and we use potatoes as only one among several staple crops.
Grains and beans are the ultimate survival crops because they are so long-storing. It is stored grains and beans we would need if a planet-wide disaster such as a comet strike or mega-volcano wiped out agriculture worldwide for an entire year or more. Grains are not as easy to grow as potatoes, though. We grow corn, the easiest of all grains to grow and process on a small scale. Corn is also, in areas where it grows well, by far the highest yielding of the grains. In addition, unlike the small grains, you can grow corn with nothing but a shovel or heavy hoe. You don't need a finely tilled bed as is needed for the small grains. We grow special people-food grade gourmet-quality corn that is completely unlike anything you can buy commercially. Cornbread and polenta are our major carbohydrate staples during late spring and early summer after the potatoes and winter squash are gone, and they provide variety year round.
Most of our corn is very early varieties that dry down during August instead of needing to be irrigated heavily then. They can make a crop on no irrigation, and a good crop on just two or three irrigations. We also grow a little late flint corn. It has to be watered all August and finishes late, full into the rainy season. We grow our pole beans on the late corn most years. And the pole beans need irrigation all season anyway.
Grain legumes, that is, beans, peas, teparies, garbanzos, cowpeas, lentils, soybeans, and others, keep well and are prime for a little beyond a year. There are many species that are associated with specific regions or growing patterns. So we plant fava beans in fall and overwinter them, for example, garbs in early spring, and common beans and cowpeas and teparies in spring to grow during summer.
We prefer to plant one variety of each of five species rather than five varieties of one species. This helps give us disease resilience. We grow one pole bean (common bean), one fava, one garb, one tepary, and one cowpea. Each is selected for spectacular flavor as well as resilience for its particular growing niche. This gives us five different species, which greatly facilitates saving pure seed; so we never have to buy seed. In addition, with winter, spring, and summer growing niches, a severe weather event is likely to wipe out only some, not all our beans.
We grow a lot of squash. We grow lots of winter squash of gourmet varieties that make spectacular food, and we know how to harvest, cure, and store it optimally. 'Sweet Meat-Oregon Homestead' is the line we use for our main winter squash food supply. It gives us prime winter squash through March. We also grow lots of delicatas, especially 'Sugar Loaf-Hessel' and 'Honeyboat' for fall eating.
We grow lots of summer squash for both fresh eating and drying. The dried summer squash is one of our major long-storing staples. Dried sliced summer squash of the right varieties makes wonderful soups and stews and chips. I have had a soup made mostly from six-year-old dried summer squash that was as delicious as it was the year I dried it.
Many people cannot make long-chain omega-3 fatty acids of the sorts we need from plant omega-3s. Some people can do the conversion reactions. Others cannot. So some people can be vegetarians. Others cannot. I'm one of the people who needs to have my long-chain omega-3s provided to me by eating animal products. Commercial animal products don't work. The omega-3s have been stripped out of them by the unnatural ways the animals are raised. I need grass-fed meat or milk, or cold-water wild fish, or free-range eggs. Of these, it's the laying flock that is easiest to keep on a home scale. So to create a full diet, in addition to my garden, I need a home laying flock. So there is a chapter in The Resilient Gardener on keeping the home chicken or duck laying flock, integrating them with your gardening, and feeding them as much as possible on garden produce and home-grown feed.
MG: Talk more about slicing and drying your squash — which is a delicious idea. How did you decide to store your squash this way?
CD: I stole the basic idea from a peasant, naturally. In this case it was Buffalo Bird Woman, the Hidatsa Indian whose expert gardening is described in Gilbert Wilson's book, Buffalo Bird Woman's Garden. We grow plenty of delicious gourmet-quality winter squash and use them as one of our main staples. But we also grow lots of zucchinis and other summer squash, eat them as summer squash, and slice and dry the oversized squash to produce an additional long-storing staple. For Buffalo Bird Woman, it was this sliced dried summer squash that was the main product of the squash patch, with fresh summer squash and mature winter squash being delicious but minor components. Buffalo Bird Woman had specially shaped knives, special squash sticks, and big drying racks — an elaborate sophisticated technology — all designed to produce huge amounts of dried summer squash as efficiently as possible.
I studied, tried, and created modern variants of Buffalo Bird Woman's methods. Then I evaluated dozens of different modern summer squash varieties for flavor and usefulness as dry squash.
Most dried summer squash actually don't taste like much. Some actually taste bad. However, some varieties have powerful, delicious, unique flavors when dried as summer squash slices, flavors so good that I would be happy to grow the squash just for drying. These varieties can be dried to be the basis for delicious soups and stews in winter. Different varieties give different flavors. In addition, some varieties make great dipping chips. Others make great sweet chips.
Delightfully, the fruits that are best for drying are bigger than those that are optimal for eating as summer squash. This means that with the right varieties, you can have all the stir-fried zucchini you want, and you can dry all those that escape you and get past the optimal stage for green eating. In this way, our summer squash patch produces both the fresh crop and an additional crop that is a long-storing staple. It also means that never again do we have to creep out in the dead of night to leave anonymous baskets of oversized zuchs on the doorsteps of our neighbors.
MG: Can you take us on a verbally illustrated tour of your garden? What does it look like? What do you have planted next to each other, and how do you space your rows?
CD: I've gardened in many ways in different years and eras, and I talk about them all in The Resilient Gardener. Sometimes I've had a few raised beds of tomatoes and greens in the back yard and a bigger patch of potatoes, corn, beans, and squash at the home of a friend. These days, my farm partner Nate and I garden on a couple of acres of good soil a few miles from home, a real luxury. Much of what is going on is determined by the fact that it is just our second season on that land.
About one acre is tilled. It's divided into six sections. One section we're turning into permanent garden beds to grow a big variety of garden crops, everything from amaranth greens and garlic to lettuce and strawberries. The rest is field crops that get rotated around each year. The field crops are all in rows spaced at 3′. (Or 7′ for the big squash.) The basic 3′ spacing is what is needed to get our rototiller between the rows, that is, when the rototiller works. Which it doesn't always. The acre of crops is as much as we want to tend by hand when the rototiller is uncooperative. In addition, it's as much as we want to water. This kind of spacing means we need to water the most water needy crops only once per week in August, the most water-short month, and less the rest of the time. And with this spacing, the potatoes don't have to be watered at all. And everything could at least survive a good while if it didn't get watered at all, even in August.
The permanent beds are 4′ across, the biggest we can reach across comfortably, with aisles between them that are alternating 3′ and 1′. That space is a compromise. Nate, being 32, can tend and harvest a garden by bending over or squatting. So if the garden was just his, he would space the beds with aisles 1′ wide. That way, he would have the most possible planting area for the total area that needs to be watered. And there would be as little aisle space that needs to be weeded as possible. I'm 64. My back and knees rebel against squatting or bending over for very long. I can hoe comfortably using the right kinds of tools that permit me to work standing upright with my back straight. I can also tend and harvest comfortably on my hands and knees, but that takes aisles 3′ across. If we split the difference, I wouldn't be able to harvest from any of the rows. With alternating aisle widths, and Nate tending and harvesting preferentially from the narrow aisles, we can both tend and harvest. And we have lots more bed space than if we used 3′ aisles for everything.
We don't put sides on our beds, incidentally. If we did that, we would have to tend all the space near the sides by hand, squatting or on hands and knees. With no sides on beds, the beds can mostly be tended by hoeing from a comfortable standing position, with a straight back. In The Resilient Gardener, I talk a good bit about the labor implications of various gardening styles and practices as well as what tools and methods to use if you have back problems. Most people garden in a way that strains or trashes their backs or knees. That is totally unnecessary if you match gardening styles and tools to your physical needs. When gardening bigger areas, this matching is especially important.
In our field, one major section is potatoes, about 23 varieties. Yellows, blues, reds, whites, bakers, boilers, early varieties, late varieties. The number of varieties gives us some resilience with respect to diseases as well as potatoes that are great for every possible cooking method, and that have many different flavors. We choose varieties based primarily upon spectacular flavor, but also upon storage ability and yield and disease resistance when grown under our conditions.
We grow our spuds organically, with no irrigation, and with only the modest levels of fertility of the sort that can be obtained simply by turning under a legume cover crop. Our spud patch should give us at least a thousand pounds of spuds, which will be prime eating quality through February, through April for certain varieties. Part of that long storage is appropriate choice of varieties. The rest of it is our method of storage, which is "sophisticated low tech." We store the potatoes in our attached garage. That's low tech. What is sophisticated is that we have figured out exactly what containers to use for optimum storage, and a maximum-minimum thermometer-hygrometer sits in the storage area. We occasionally open the garage door or the door to the house as needed in winter to control temperature or humidity.
Our potatoes don't get irrigated. We grow them at 16″ in the rows instead of the 8 — 12″ so as to have one important staple crop that doesn't require irrigation. That cuts down our water use and gardening labor. In addition, if the electricity failed and we couldn't irrigate, our practice of growing potatoes without irrigation would really matter. Not irrigating also gives us especially clean, disease-free spuds. In addition, the flavors are much more intense than when the potatoes are irrigated. Water and fertility needs are very much affected by spacing. If we crowded the spuds more, we would need more fertile soil, probably imported fertilizer, and irrigation.
The tomatoes are at one end of the potato patch for purposes of rotation, since they are potato relatives. We water the tomato end.
About 1/6 of the garden is in legumes, but not in one section because we plant different species that are grown at different times of year, a common trick for spreading many kinds of risks and enhancing resilience. In addition, overwintering cool-season legumes don't require watering. Staple crops that don't require watering (or electricity) cuts the labor in good times and might be essential in bad times. So we plant 'Iant's Yellow', in fall and overwinter them. Winter is our rainy season. 'Iant's Yellow' is delicious as a dry bean (but not as a shelly). It usually overwinters well. It was an unusually cold winter, though. Most of our favas died out. These things happen. That's why overwintered favas is just one of our beans and overwintering is just one of our patterns of growing beans.
We planted 'Hannan Popbean', a garbanzo, in early spring. It was unusually cool and wet, but they did fine. I've selected 'Hannan' to grow well when grown organically, to germinate cheerfully in cold mud, to be highly resistant to all the aphid-borne legume diseases that are rampant in the Willamette Valley, and to finish a crop in late July and without irrigation. We harvested the 'Hannan' yesterday. This year, there has been almost no summer heat, and everything is delayed. So the 'Hannans' took until mid-August. But they still did fine. The fact that they finish so early gives us resilience that we called upon this year.
Our vetch cover crop died out instead of growing last winter because of the unusual cold. So we're short of fertility in the patch for summer-grown legumes. In addition, we didn't get that area tilled during the short spring tilling window before an unusually wet spring ensued. (We got the ground tilled for the potatoes, garbs, and one corn planting, but didn't have enough of a weather break for the rest.) So we got a late start planting the warm-season legumes. And it was already looking like a cool summer. This meant that any summer-grown beans might not mature until the rainy season. Common dry beans (Phaseolus vulgaris) tend to mold, rot, or split if they are asked to dry down in the rainy season. So we planted 'Fast Lady Northern Southern Pea' on all the land for summer grown legumes.
'Fast Lady', our Northern — and maritime-adapted cowpea, is very fine in texture and delicious, and like other cowpeas, doesn't need to be soaked before cooking. Cowpeas are much better at making their own nitrogen than P. vulgaris dry beans, so our cowpea should be less affected by the fertility problem. Also, cowpeas are less harmed by getting rained upon when drying down than common beans. Cowpeas are also more drought resistant and better at scrounging water. That means we don't have to water them as often as most summer grown beans. And we can eat the shoots, leaves, green pods, and shelly beans during the summer as well as harvest the dry seed. It adds flexibility when your main staple crops give you good summer green crops as well. And I've harvested 'Fast Lady' right in the middle of the rainy season before, and it was fine. The drying pods shed rain very nicely instead of absorbing it. In addition, being a cowpea, we can save pure seed from 'Fast Lady' even if we are growing pole beans, since the cowpea and common beans are different species. And 'Fast Lady' is by far the easiest to thresh of any bean I have ever grown.
We did an early planting of 'Magic Manna', the early corn that provides our parching corn, savory corn gravy, sweetbreads, some flavors of cornbread, and cakes. I'm talking about fine-grained cakes, such as angle food cake or sponge cakes. Real cakes. True flour corns can give you a flour almost as fine in texture as commercial wheat flour. 'Magic Manna' is a flour corn that gives us four different colors of ears, each with different flavors and cooking characteristics, all from one patch. Red and pink ears make great parching corn and sweetbreads. Pancake ivory and white ears make great pancakes, sweetbreads, and cakes. And brown ears make a delicious gravy as well as savory (non-sweet) cornbreads. 'Magic Manna' is very early. I bred it by selecting for flavor, and culinary characteristics from 'Painted Mountain'. I designed the genetics so that one variety could produce corns with several flavors and culinary niches all from one patch. 'Magic Manna' should also be a great ornamental corn.
Then there is a much later planting of a late flint corn. Usually I grow pole beans on late corn, but we put the corn in too late for that this year.
We planted our early flint sister varieties 'Cascade Creamcap', 'Cascade Ruby-Gold', and 'Cascade Maple-Gold Polenta' on the farm of a cooperating grower. It pollinates at the same time as 'Magic Manna', so we don't grow both on our land. The Cascade sister lines are so designed genetically that they can be planted in adjacent patches and still allow for saving seed. The Cascade planting will give us all our polenta, johnny cakes, and five different colors of ears for five more different flavors of cornbread, all from a single patch. Corn is my basic grain staple. I'm gluten intolerant. With these corns, I can make cornbread that holds together well enough to make sandwiches, and that requires only corn, water, eggs, butter or fat or oil of some sort, salt, baking powder, and water. I've bred these Cascade lines to be the ultimate survival corns as well as to be spectacularly delicious.
The squash patch provides winter squash, summer squash, and dry squash.
Then there is a huge patch of brassicas, mostly kale but also cabbage, broccoli, and others. We plant those mostly in late July and eat them all fall and winter and spring. Nate and I both love kale. Nate also makes lots of sauerkraut.
The backyard is now heavily shaded by trees on neighboring properties. I gardened there when I first moved into the house. At this point, we garden on our leased land, and the back yard is duck pasture. My flock of 35 laying ducks (Anconas) provides all the eggs we want as well as some to sell to cover the feed bills. They also provide all our breeding stock as well as generate ducklings for sale to others in the area. The Anconas eat commercial chow and forage in summer, but in fall, winter, and spring they eat mostly cull and small potatoes and winter squash, and such goodies as worms, sowbugs, and slugs. Ducks are a better choice for free-range layers in the maritime Northwest than chickens. In our climate, they are the ultimate ecologically well-adapted livestock. Compared with chickens, ducks lay better (especially in winter), are happy outdoors year round, can scrounge a much large portion of their feed, eat even big banana slugs, and are the best at yard and garden pest control. And they love our weather.
One of our friends is a melon grower. We trade potatoes for melons. We also sell potatoes to the duck egg customers. And starting in December this year, we plan to start selling seeds of some of the varieties I've been breeding for the last two decades. We forage wild cherries and serviceberries and sometimes hazelnuts. And we buy huge amounts blueberries from a blueberry farm down the street.
Ideally, we would like to have a small farm with some sheep and maybe water buffalo for milk, meat, and draft, and a full orchard, and of course, a pond for the ducks in addition to land for our garden and seed crops. But resilience is about just doing something now, making a start, doing what you can with what you have. And what we can do at the moment is lease some good gardening land that isn't too far from our home, and grow lots of food, and breed new varieties selected specifically for flavor and resilience. And we can just play around and try things and have fun.
MG: For gardeners who are just starting out, do you think there's something intimidating about the idea of the "perfect" garden?
CD: The issue of how to get a garden as perfect as possible — that isn't my issue. My issue is, how can I get the highest yield of the most delicious food for the least possible time and effort? I'm lazy. I want to garden efficiently. Perfectionism really gets in the way of gardening efficiently. I don't talk about very much about perfectionism. Instead, I talk about what I call "selective sloppiness." I have spent a lot of time figuring out what I can get away with not doing. I even have a section in The Resilient Gardener that lists lots of things gardeners are frequently told to do that are unnecessary or even counterproductive.
Then, of those things that actually do matter, the question is, exactly how sloppy can I be about them and still get the results I want? What is the most appropriate level of sloppiness? What is, if you will, perfect sloppiness?
While I'm at it, I have to bring up that old adage that goes "Anything worth doing is worth doing well." Nonsense! Most things worth doing are not worth doing well. They are only worth doing sloppily. And lots of what most of us spend much of our lives doing is not worth doing at all. Anything not worth doing at all is certainly not worth doing well.
Forget perfectionism! I'm not perfect. You're not perfect. The rest of our lives aren't perfect. Why should our gardens be? Let's make practical gardens, resilient gardens. And let's manage our resilient gardens with cheerful, unapologetic selective sloppiness.
Read the original interview on Alternet.
Carol Deppe is the author of The Resilient Gardener, available now.
21 Responses to "The Resilient Gardener – an interview and book giveaway"
Leave a Reply